Good News
Star Writers
Every month a star writer will be chosen. Each teacher will choose the best piece of independent writing from their class. Miss Wilson will then judge which should be the star writer from the following criteria;
Handwriting and presentation

Punctuation

Spelling

Grammar and sentence structure

Use of text features

Content
The star writer from each year group will receive a star writer pen and certificate.
They will also have their work displayed in the school and put here on the website. All children who are nominated will receive a letter from Miss Wilson.
Well done to the star writers of January
Nursery - Emiymah Islam
Reception - Aamina Ahmed Germany
Year 1 - Shuja Hussain France
Year 2 - Zakariya Hassani Italy
Year 3 - Zuhair Hussain Denmark
Year 4 - Aaliyah Fatima Norway
Year 5 - Jannah Satar Iceland
Year 6 - Hamzah Ahmed Finland
100% Attendance
Individual children who get 100% attendance in a term get a prize and a certificate. Those children who manage to come in every day for a whole year get the chance to take their family out for a treat too.
Congratulations to those children who achieved 100% for this year. Children were awarded with a badge and a certificate. Well done to all the children.
Times Table Champions
Each week the children are invited to achieve awards linked to the times tables. Children give up 5 minutes of their lunchtime to attempt to answer times table questions. Children can earn Bronze, Silver and Gold pin badges for learning the times tables up to 12x12.
If the children receive their gold award they can move onto the platinum award. This encourages the children to use a number of skills linked to the year 5 and 6 Maths curriculums. See below for details of who has achieved the awards this year:
| | | | |
| --- | --- | --- | --- |
| Bronze | Silver | Gold | Platinum |
| | | | |
| | | | |
| | | | |
| | | | |
| | | | |
qpacademy @qpacademy
25 Sep RT @RSRgames: @qpacademy Year 4s had fun guiding Stone Age tribes to civilisation in our MegaGame today #bedshour #ukedchat https://t.co/y9…
1 Sep RT @sdowdtrust: **JULY #BOOKSWAPSPREE WINNERS** La Retraite Girls Sch, Lambeth £500; Howes Primary, Coventry £500 Queens Park Academy, Bedf…
1 Sep @sdowdtrust How exciting! Thanks so much.
Stars of the Week
Each week, a child from each class, is chosen to be the Star of the week.
This is decided by their teacher for a variety of achievements. See below for this weeks stars...
Best Class Attendance
At Queens Park Academy we have not authorised any term time holidays since 2011. With the support of our children and families this has raised our attendance to the national average and our last Ofsted report (2012) said it was 'improving rapidly'.
Every Friday we celebrate the classes with the best attendance in assembly. They are given an attendance cup which they keep in their class. If a class gets 100% in a week each child receives a chocolate treat!
The winning classes for week ending 22 September 2017 are:-
Loose Change Challenge
The School Council arranged a fundraising event called the Loose Change Challenge. Families of our school children saved 1p, 2p and 5p pieces and sent them into school. Each class collected the loose change in bottles. The winning class was Italy Class.
Well done to Italy class.
A big thank you for all families for supporting and donating their Loose Change!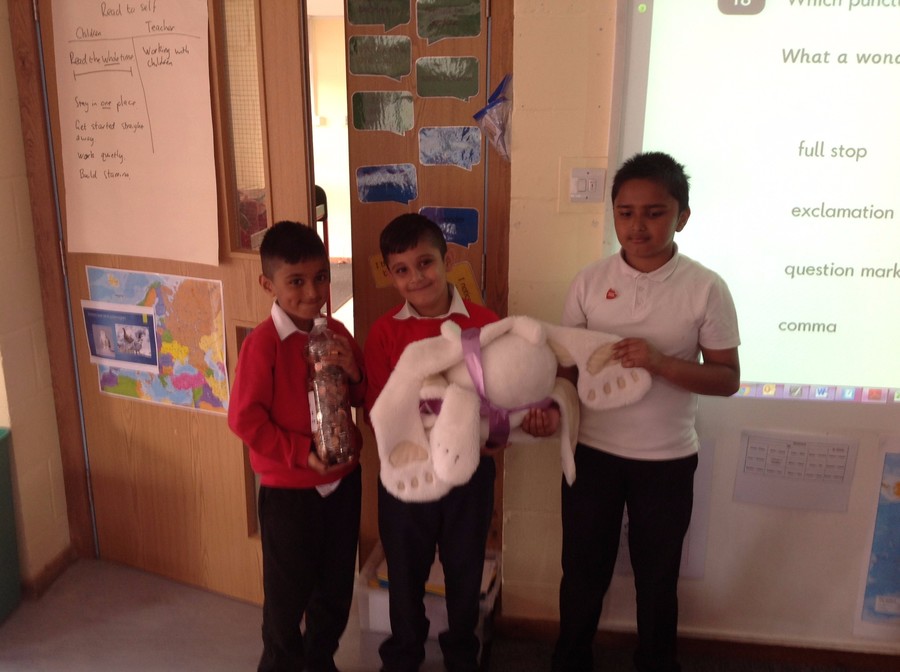 Hamza, Chair of the School Council, presenting Italy class representatives Yasar and Zidan with the prize for winning the Loose Change Challenge.