Welcome to Queens Park Academy
Community Nursery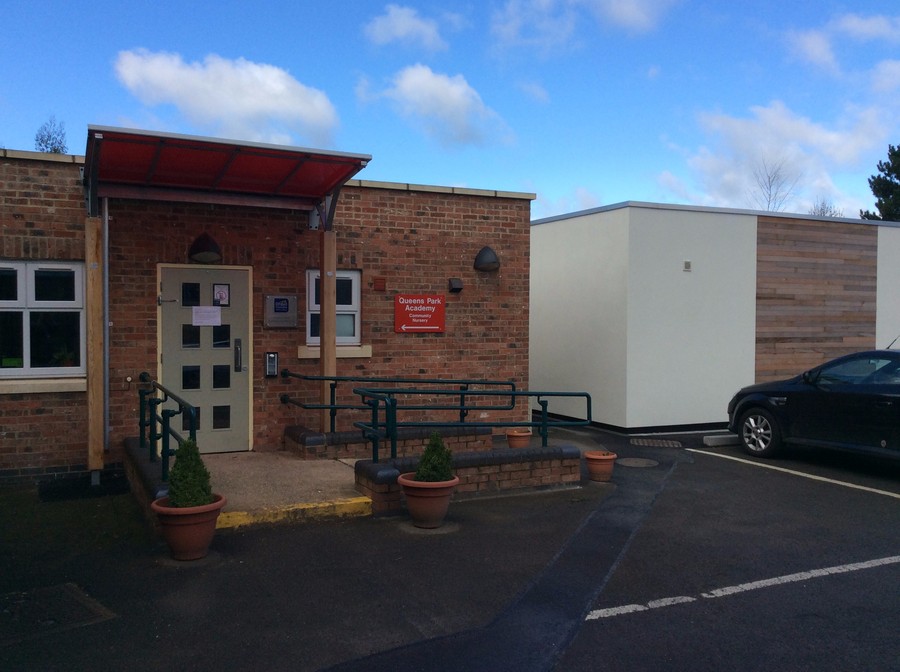 Welcome to our Community Nursery. We are a 57 place purpose built day nursery offering a selection of full and sessional daycare. We are a highly skilled nurturing team who are extremely proud of the fun, safe and stimulating learning environment that we offer.
All staff are qualified from level 3 or above and between us have extensive experience in working within early years. We also work closely with the teachers from the Academy's Early Years team ensuring that all our children are provided with the best start
We are based at Queens Park Neighbourhood Centre on Marlborough Road
Sessions and Timings
We try to offer a flexible nursery experience for you and your family, so get in touch to see how we can help with your families needs. We are open 50 weeks a year, closing for 2 weeks at Christmas and bank holidays. We offer full time, or sessional day care. We also offer term time only places with no retainer fees.
Our sessions are:
Full day care: 8.00-6.00, 8.00-1.00 or 1.00-6.00
Sessional care: 9.00-12.00 or 1.00-4.00
For sessional care we do offer a lunch and supper club at a fee; however places can be limited so its best to book in advance to avoid disappointment
We also run a holiday club every holiday (except Christmas) for children up to the age of 8
Learning in a fun, unique and stimulating environment
At Queens Park Community Nursery we pride ourselves on providing individualised care and education for our children. We have 3 playrooms which are loosely set up around ages and stages. Children will move up to the next room when the staff team are confident that they are ready to be in that room. All rooms have direct access to the garden and children move freely between the indoors and outdoors. Each room operates a key person system and your child will have a dedicated worker to help them settle, record their learning and help them to become confident independent learners.
The Nurture Room
This room is designed for our youngest and inexperienced children. This room can take 6 0-2's or 8 2-3's. The staff team are skilled in caring for children of this age and understand the needs of the child and the family. The focus is entirely on the individual children and what their needs are. There are no 'set' sleep times or meal times and the staff work closely with you to establish a routine at the nursery that suits your child. We also know how difficult it can be to leave your child at this age so the staff will provide regular feedback and information in a way that suits you. We offer food for all stages of weaning and will continue with your chosen method. There is a focus on natural resources and a calming atmosphere, activities are planned on an individual basis to suit the differing needs and interests of each child.
This room is designed with our 2 year olds and youngest 3 year olds in mind. The Pod is always bustling with lot's of activities. There are lot's of opportunities for physical movement inside and out and plenty of chances to practice being independent and doing things for themselves. Consistent boundaries with a clear a routine allows the children to know what is happening now and what will happen next. Children at this age can find dealing with their emotions difficult and challenging, however our skilled staff are always on hand to support children to explore these emotions, develop ways of coping with them and eventually overcome them, and if all else fails be available for a hug and a story.
A wide variety of meals are offered and children are encouraged to feed themselves. There is no 'set' sleep time or rest period, staff work with you to identify your child's sleeping pattern within the nursery. Comforters are welcomed and encouraged for new children.
Our 24 place very busy pre-school room is full of exploration, wonder and awe! We are learning new things all the time and the staff work hard to provide an exciting environment. We're beginning to make our own friends and learning how to play with each other. We are starting to get ready for school which means we must be able to put on our own coats and shoes and recognise our own name. We will also be expected to sit down and join in with a 10 minute group time activity. We are starting to understand who we are as individuals and how we fit into this world. Although we are busy in this room; we know we are able to stop, rest and observe the world as we want.
For a copy of the Community Nursery brochure Click here
For more information about our nursery, prices and how to register or to arrange a visit please contact the nursery manager Lucy Smith or a member of the team on 01234 261703 or email lsmith@qpa.uk.net
To read our Ofsted report, Please click here